Every student in Victoria, Australia will receive careers guidance from the age of 12 as part of a state government overhaul of careers education. The changes will be rolled out next year after a review commissioned by the Education Department found careers education started too late in government schools, varied in quantity and quality and did not provide enough meaningful work experience.
Journalist Henrietta Cook writes 17th July 2018 :
"Career education must begin earlier than Years 10 to 12, and it must reflect the fact that students' needs evolve as school progresses," the plan states.
From next year, Year 7 and 8 students will take part in mandatory "career self-exploration workshops", where they will assess their strengths, set goals and discuss different jobs.
When students reach Year 9 they will undertake online psychometric testing to see what jobs they might be suited to, and then receive one-on-one career guidance.
Wren Gillett, a Year 11 student at Upwey High School, said the biggest problem with careers education was that it started too late.
It's often not touched on until Year 10, the same year Victorian students choose their VCE subjects.
"It starts too late in the curriculum," Miss Gillett said. "Students are choosing subjects for breadth, rather than depth."
The Victorian Student Representative Council executive member, who recently gave evidence at a parliamentary inquiry into careers education, said the poor timing of careers advice meant some students didn't complete the subjects required for their desired university courses.
"Once you get into VCE it's actually very hard to swap things around," the 16-year-old said.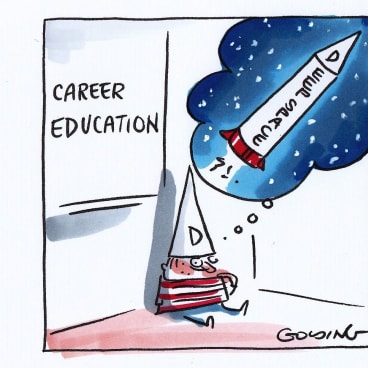 "If you don't have a clear idea of what you want to do in Year 10 then you are kind of a bit lost when you head into VCE."
While Miss Gillett has wanted to be a journalist since starting high school, she said some of her peers were unsure about their careers.
Experts say meaningful careers advice in schools reduces university drop-out rates, improves students' confidence and helps them find work. There's also evidence it boosts the representation of rural students at university.
Under the changes, which are backed by a $109 million investment in the state budget, a new one-day program will immerse students from rural, regional and disadvantaged backgrounds into industries ranging from transport to technology.
About one in five careers advisors working in schools do not have relevant qualifications.
The government has promised to fix this by providing training to 400 advisors. It said this would ensure every school had at least one qualified careers practitioner.
Education Minister James Merlino said the overhaul would ensure students received better information and advice earlier on so that they could manage their careers.
"We must make sure students understand the opportunities and pathways ahead for them so they can make informed choices that will shape their futures," Mr Merlino said.
But Foundation for Young Australians chief executive Jan Owen said careers education should begin even earlier, when students are in primary school.
"A 15 year-old will have 17 jobs in five different industries," Ms Owen said. "When it comes to being exposed to the world of work, the earlier the better."
Opposition education spokesman Tim Smith called on the government to declutter the curriculum to improve students' career opportunities.
"It's all very well to talk about career education, but career prospects will be diminished if young adults don't have basic literacy and numeracy skills," he said.
Career Education Association of Victoria president Frank Thompson said all students should have access to professional career planning services.
"We welcome the idea of greater connection to the world of work," Mr Thompson said.
"Students benefit from hands-on experience and employers will benefit from a better understanding of the hopes and aspirations of young people."
While Mr Thompson supports the boost to career practitioners working in schools, he called on the government to commit to the OECD standard of one qualified career practitioner for every 450 students.