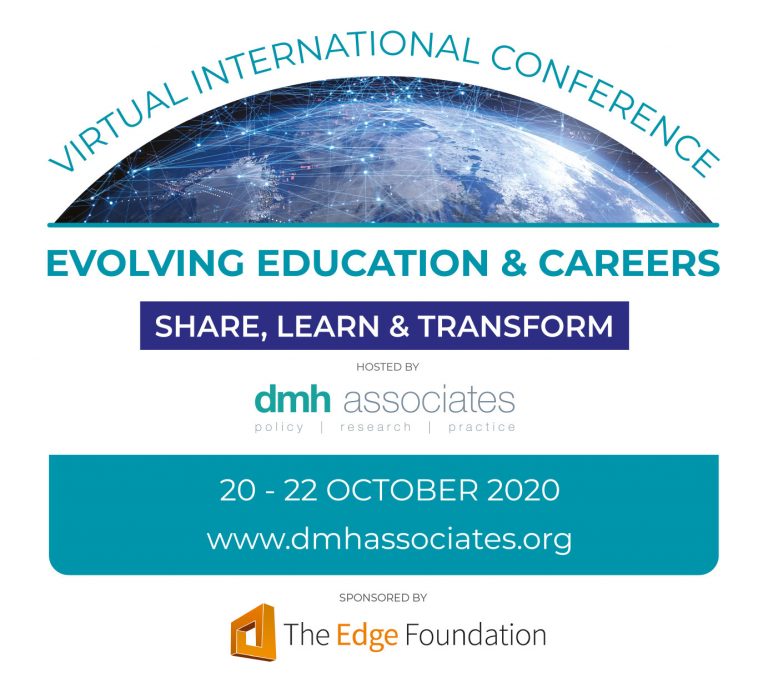 "What an inspiring and excellent value conference that brought everyone together in a way that made you feel you really were 'together' no matter where you were in the world – well done and thank you."
The first dmh associates, virtual international conference has now taken place and was a great success. The three day conference – Evolving Education and Careers, welcomed an audience that included 425 delegates and 51 speakers who work in the education and careers sector around the globe.
The aim of the conference was to;
Share… our knowledge, our passion, our experience, our best practise and our vision
Learn… whatever stage we are in our careers there is always more to learn, improvements to be made and technology to embrace
Transform… by sharing and learning it gives you the necessary tools to be effective and help transform the lives of the young people and adults you are so passionate about
From the great feedback we have received we know this was achieved and feel privileged that dmh, our sponsors, speakers and partners have been able to reach out and support the careers community and their appetite for being the best they can be.
You can read more in our Post Conference Report.
Keep an eye on our website for future dmh webinars and the 2021 conference.
"Great conference, informative, stimulating and thought provoking, well worth clearing the diary for a couple of days."
Alice Barnard
Chief Executive, Edge Foundation
Amarjit Basi
Co-founder, Black FE Leadership Group (BFELG)
Anuradha J. Bakshi
Associate Professor and Head of the Department of Human Development
Chris Percy
Director CSP Resources, London
Dame Ruth Silver DBE
President Further Education Trust for Leadership
Danny Matthews
Apprenticeship & Community Resourcing Lead, Co-op
David Carney
Executive Director, CICA
Debbie Braid
Head of Business Improvement, WISE Ability
Dr Deirdre Hughes OBE
Director, dmh associates
Dr Siobhan Neary, RCDP
Associate Professor and Head of the International Centre for Guidance Studies
Dr. Anthony Mann
Senior Policy Analyst (Education and Skills), Organisation for Economic Co-operation and Development
Dr. Ebun Joseph
Career Development Consultant, Royal College of Surgeons, University of Medicine and Health Sciences
Dr. Mary McMahon
Hon. Associate Professor, School of Education, University of Queensland, Australia
Dr. Naeema Pasha
Director of Careers & Professional Development and Founder of WOW, Henley Business School
Dr. Reinekke Lengelle
Assistant Professor, Centre for Interdisciplinary Studies, University of Athabasca, Canada
Ella Bujok
Managing Director, CASCAID (part of Xello)
Fiona McBride
Managing Director, Kaplan Professional ME
Honorary Associate Professor Graham Atwell
Director of Pontydsgyu and Co-Founder of CareerChat bot
Jan Ellis
CEO, Career Development Institute (CDI)
Jennifer McKenzie
Director NCGE
Jennifer Tardy
Career Success Coach, USA
Joanne Reynolds
Early Careers Operational Lead UK Emerging Talent - HSBC Bank Plc
Jon Chase
Science Communicator, Author and Science rapper
Karin Smith
Academic Consultant, Department of Public Instruction, Wisconsin
Kieran Gordon
Executive Director, Careers England
Lauren Monaghan-Pisano
Senior Producer and departmental lead, Barbican Guildhall Creative Learni
Liane Hambly
Director, Liane Hambly Associates, UK
Lord Victor Adebowale CBE
Chair of the National Health Service Confederation
Marie Zimenoff
CEO of Career Thought Leaders and Resume Writing Academy
Meeta Zakharia
Head of HR and Inclusion
Minister Diane Dodds
NI Economy Minister
Minister Gillian Keegan
Parliamentary Under Secretary of State for Apprenticeships and Skills at the DfE
Minister Jamie Hepburn
Minister for Business, Fair Work and Skills
Minister Ken Skates
Minister for Economy, Transport and North Wales
Monique Malcolm-Hay
ICAEW Chartered Accountant, PwC
Morenike Ajayi
Founder - Career Nuggets | Designed to Educate & Inspire
Nick Chambers
Founder and CEO of Education and Employers
Nikki Lawrence
Chief Executive, Careers Wales
Olly Newton
Executive Director, The Edge Foundation
Patrick Craven
Director – Strategic Partnerships, Policy and Stakeholder Engagement– City & Guilds Group UK
Paula Philpott
Head of Learning Academy, South Eastern Regional College
Pedro Moreno da Fonseca
Technical Specialist, International Labour Organisation
Prof. Fusun Akkok
Emerita Professor, Middle East Technical University, Ankara, Turkey, Careersnet, Cedefop
Professor James P. Sampson Jnr
Emeritus Professor, Department of Educational Psychology and Learning Systems, Florida State Uni
Professor Jenny Bimrose
Emeritus Professor, Warwick University IER
Reno Palombit
Workforce Development Specialist
Richard Marsh
Director of Apprenticeships and Vocational Education for Kaplan Financial
Rudaba Osmani-Edwards
Head of Partnerships at Big Education
Ryan Gibson
AET National System Leader: Careers
Sandra Cheyne
National CIAG Policy & Professional Practice Lead – Skills Development Scotland
Sarah Gifford
Head of Banking, Finance & Management Design, Partnerships, Education and Design, Kaplan Financial
Sareena Hopkins
Executive Director, Canadian Career Development Foundation (CCDF)
Simon Hepburn, MA FRSA
Founder and Managing Director of Black Star Inc
Sophie Hope
GMAC Programme Lead, Greater Manchester Combined Authority
Yasmin Hemmings
Schools Engagement Manager for Barbican Guildhall Creative Learning
The world has experienced major economic, social and technology impacts. Societies everywhere are undergoing deep transformation. Climate change, an ageing workforce and skills gaps are major issues that governments need to address. Only time will tell what the impact of the current health crisis will have in the medium and long-term. As a consequence, careers will evolve in response to a dynamically changing environment. How will this affect jobs, training, employment, the gig economy and/or unemployment in the future? We will be exploring forward-thinking approaches to careers support systems drawing on international good and interesting policies and practices.
For leaders, educators, career development, HR and employment specialists a fundamental question is: – how best can individuals be better prepared to adapt and prosper through lifelong learning and work? Individuals' must be well equipped with the mindsets and tools they need to find and benefit from purposeful learning and work opportunities. Organisations working with young people and/or adults in differing contexts will need agile responses to meet citizens' needs.
With all this in mind, time away to network with experts and like-minded colleagues is just what the doctor ordered. This year's theme is Evolving Careers. Delegates will learn from experts and peers whilst sharing experiences, research and best practise to take back to the day job of helping to transform people's lives.
Conference Content
International keynote speakers
Session topics and panel debates hosted by leading experts and contributors
Together Social & Share networking
Digital delegate toolkit packed with valuable resources
All delegates that register to attend the conference will be entitled to exclusive access to a Digital Toolkit. Dmh Associates wants to ensure you have access to a whole range of valuable resources after the conference has ended. These resources will aim to enhance your knowledge and offer practical guidance when undertaking your critical role in the careers sector.​
Our conference last year was a great success with delegates rating it 4.4 out of 5 in terms of value, content and relevance to their needs.
This year we have mixed our successful formula with some great new features and benefits but don't just take our word for it, this is what our delegates had to say after the 2019 conference;
"It was inspirational to share so many elements of practice and research in one place. The calibre of speakers and content (including the toolkit) was exceptional."
"Inspiring, positive, brilliantly organised. A day well spent."
"The conference blended the worlds of academia research with great examples of careers work from around the world. We want more!"
"A wonderful conference, full of insight. Can't wait for the next one."
"The conference offered a great opportunity to interact with thought leaders on important topics relating to career development. Excellent venue and well organised."
Bookings are closed for the conference in 2020.
For all conference queries contact our event organiser Nina Hurst-jones nina@theeventorganiser.co.uk .
Tickets are £30 and delegates have access to all sessions across the three days. Delegates can select which sessions they wish to attend but we would encourage you to attend as many as possible to gain maximum benefit to you and your CPD.
Whatever your interests are please do not hesitate to contact us for further information.
For latest new developments follow @deirdretalks